4.5 x 2.7m
Depth 1.1m – 1.65m
14,000L
The Entertainer 4.5m is a sleek rectangular pool designed to fit seamlessly into any modern backyard. Featuring all the benefits of a swim spa, the Entertainer also boasts plunge pool depth, a full length bench for the family to relax on and the option to add hydro therapeutic spa jets.
Stylish, modern and sophisticated dual entry allowing for maximum pool area. The clean lines are perfect for today's contemporary designs.
This pool allows for easy entry and exit due to steps positioned on each side of the shallow end. The full length bench can also function as an entry point.
Finished in contemporary styling, these unique pools pack both pleasure and lifestyle, into a compact yard solution. The resting ledge runs the length of the swimming pool making it family friendly for those with children.
Each Freedom Pool is manufactured to the highest quality and is backed with a lifetime structural warranty, giving you true peace of mind.
Freedom pools are designed to last a lifetime, our close beam construction has been designed to create superior structural support and strength for the top edge, allowing the installation of coping pavers without further engineering or bond beam. Wall supports are incorporated in to the walls of each pool resulting in strength that cannot be beaten. Our larger radius coves, provide an outstanding strength advantage which also results with easier operation of an auto pool cleaner. Our pools are built using the strongest method in the industry.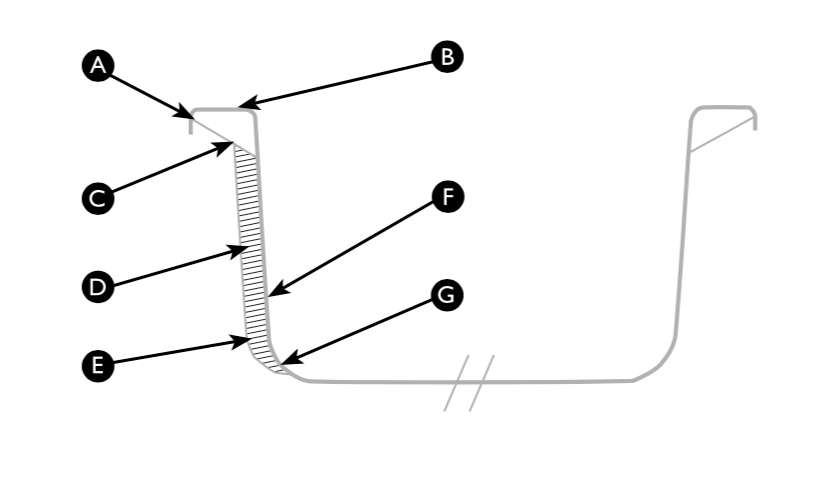 CROSS SECTION OF STRUCTURE
A. Outer edge beam
B. Non slip surface
C. Angle Brace
D. Fibreglass wall supports
E. Flowcoat to outer structure
F. Full depth walls
G. Large radius designed for auto cleaner
Complete your pool with the luxurious look of marble with MarbleTech™, a high quality marine gel coat finish available in a range of eye catching decorator colours.
Your pool will be protected with the revolutionary Ecopure™ gelcoat, an antimicrobial system exclusive to Freedom Pools. It helps prevent algae growth on the surface, can reduce up to 99% of common bacteria* and is UV, chlorine and fade resistant.